Current Economic Trends
Current economic trends from 3 to 7 February 2020: consumer prices, exports and imports of goods
External trade movements slowed further in the last quarter of 2019. Particularly trade in intermediate goods eased last year, as activity in manufacturing is mostly stagnant at home and abroad. Year-on-year consumer price growth rose in January, largely owing to higher food and energy prices.
Consumer prices, January 2020
Consumer prices declined in January due to seasonal factors, while in year-on-year terms their growh strengthened to 2.1%. The greatest contribution to total year-on-year growth came from higher prices of goods, which was largely a consequence of higher food and energy prices. Food prices are rising due to growth in meat prices as a result of the outbreak of the African swine fever. The growth of fruit prices is also strengthening, reflecting last year's worse harvest. Prices of semi-durable goods continue to rise moderately, while prices of durable goods remain down year on year. Growth in prices of services is gradually easing amid lower prices of holiday packages.
Exports and imports of goods, December 2019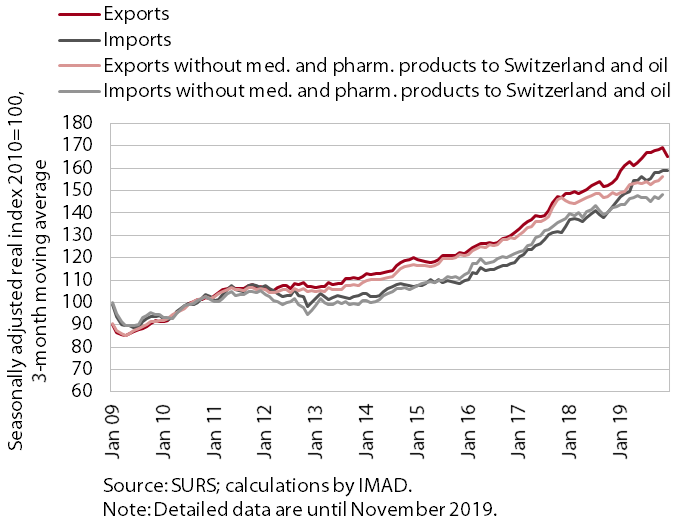 The moderation of economic growth in Slovenia's main trading partners also influenced the slowdown in external trade movements in the last quarter of 2019. Exports to Germany, Italy and Austria, the main destinations of Slovenian goods exports, declined year on year. Particularly exports of some main intermediate products, related particularly to the car industry, declined further. After several quarters, exports of vehicles increased again, particularly to France. In goods imports, a moderation is also recorded particularly for growth in imports of intermediate products, which is related to slower growth in manufacturing.
According to the external trade statistics, total growth in goods exports and imports accelerated last year, which was related to strong trade and distribution activity in medicinal and pharmaceutical products in particular, but also oil and oil derivatives.