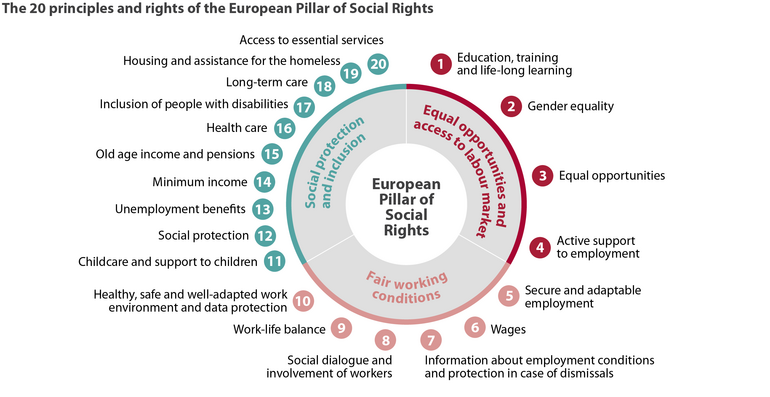 The European institutions launched the EPSR as a response to the aftermath of the global financial crisis (2008–2013), which has had a negative impact on the quality of life across the EU. To this end, the European institutions that have signed this commitment will strengthen social convergence, social justice and sustainable social well-being by 2030, taking into account the well-being of all EU citizens. Since 2021, the EPSR has been an integral part of all EU policies and its implementation has been monitored since 2018 in the context of the European Semester. A set of indicators has been agreed to monitor the implementation of the EPSR principles and some are still being developed by Eurostat. At the Porto Summit in May 2021, Member States reaffirmed their commitment to the implementation of the EPSR by adopting an Action Plan.
The EPSR consists of 20 principles and rights that national governments incorporate into their national policies, covering three areas:
(i) Equal opportunities and access to the labour market, including access to education, the right to equal treatment irrespective of gender, the prevention of poverty and discrimination, and an active labour market policy;
(ii) Fair working conditions, including secure and adaptable employment, adequate minimum wages, protection in case of dismissals, work-life balance, the right to the protection of health and safety at work, strengthening social dialogue and the involvement of workers;
(iii) Social protection and inclusion, including adequate education and care for children and the protection of children from poverty, access to social protection and unemployment benefits, the right to an adequate minimum income and social benefits so as to help prevent poverty, the right to a decent pensions and long-term care, affordable health-care services of good quality, adequate services for the inclusion of persons with disabilities, the accessibility of housing (to prevent homelessness) and access to other essential services.
In order to analyse the situation in the EPSR areas in Slovenia, we have prepared an overview of the EPSR indicators and the development of social policy, labour market policy and equal opportunities for the last twenty years. The publication consists of 20 chapters. Based on a comprehensive and analytical view of the situation, many advantages were identified, as some areas in Slovenia are well developed compared to other EU Member States. Nevertheless, challenges in several areas were also identified. Thus, taking into account the identified challenges, some necessary changes are also required in order to achieve a decent life and increase the quality of life for all social groups.
The high participation of young people in education and low educational inequalities in Slovenia are a good basis for ensuring equal opportunities and participation in the labour market and society. However, the participation of adults in education and training is declining and the participation of the unemployed in active employment policy programmes is also low. The challenges in the area of equal opportunities and access to the labour market therefore mainly relate to:
- ensuring better access of vulnerable groups of children and young people to education and training and their greater social inclusion:
- increasing the employment rate of women and their participation in political and social decision-making;
- increasing the employment rate of young people (aged 15–29) and older people (aged 55–64) through more appropriate active employment and training policies;
- improving adults' skills for a green and digital transition and
- increasing the involvement of people over 65 in lifelong learning, which would contribute to their greater inclusion in society and to quality ageing.
Ranking of EU Member States according to headline indicators for equal opportunities and access to labour market, in 2019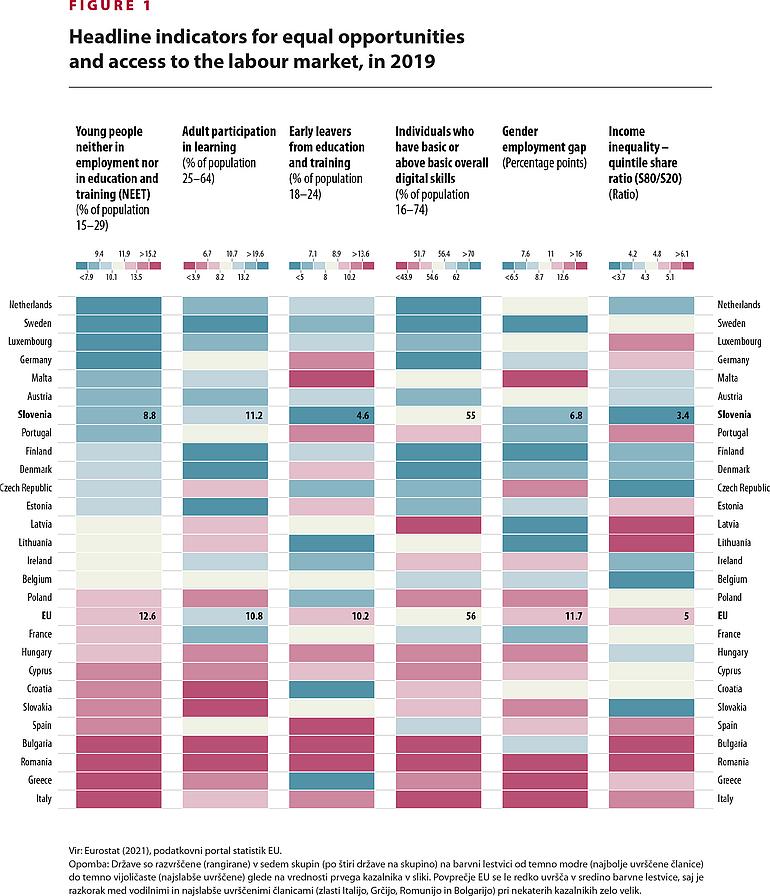 As regards fair working conditions, the large share of standard employment in Slovenia ensures relatively good social inclusion. However, not enough attention is paid to the creation of better quality jobs for all types of employment. Measures to prevent emerging occupational safety and health risks are taken less frequently in Slovenia than the EU average; the lifework-life balance opportunities are not yet fully exploited; frequent social dialogue interruptions hamper the effectiveness of labour market policies and working conditions. The increase in the minimum wage since 2010 has contributed to reducing the risk of in-work poverty. The main challenges in the area of fair working conditions are as follows:
- ensuring social security coverage for employees in non-standard employment, tackling the problem of disguised employment and precarious work;
- creating new and better jobs;
- strengthening occupational health and safety measures to reduce psychosocial risks and other illnesses triggered by high labour intensity, also taking into account changes in circumstance (e.g. the worker's right to disconnect);
- establishing and strengthening social dialogue at the Economic and Social Council level and increasing the participation of professionals and civil society in decision-making on all major social development issues;
- developing measures to promote the employment of young people and the long-term unemployed and
- maintaining affordable and high-quality public education and care services and raising awareness among fathers and employers of the right to paternity leave.
Ranking of EU Member States according to headline and secondary indicators for fair working conditions, 2019
With regard to social protection and inclusion, we find that the guaranteed minimum income threshold in Slovenia is low. Social transfers (other than pensions) are more successful in reducing the risk of poverty in Slovenia than the EU average. The at-risk-of-poverty rate for older women remains high, mainly due to low pensions (a high share of widows' pensions). Access to health services in Slovenia is limited due to long waiting times. However, a broad basket of services is available to the population; in the area of long-term care, the most pressing problem is the backlog in the development of home care services. The main challenges in the area of social protection and inclusion are as follows:
- providing accessible and sufficient social transfers to protect all low-income and other socio-economically vulnerable groups from poverty;
- improving access to unemployment benefits for young people;
- reducing health-care waiting times and increasing the number of doctors and graduate nurses with a comprehensive approach to strengthening the resilience of the health care system, which has been hit hard by the COVID-19 epidemic;
- ensuring adequate pension levels for all retirees to live with dignity;
- improving access to long-term care and the deinstitutionalisation of services for all elderly persons and persons with disabilities who are unable to fully care for themselves;
- increasing the supply of rental and affordable housing and preventing the rise of homelessness through mutual social and housing policies;
- ensuring access to a clean drinking water supply and adopting stricter measures to preserve this natural resource in the long term; and
- improving access to digital infrastructure, including in sparsely populated areas.

Ranking of EU Member States according to headline indicators for the field of social protection and inclusion, in 2019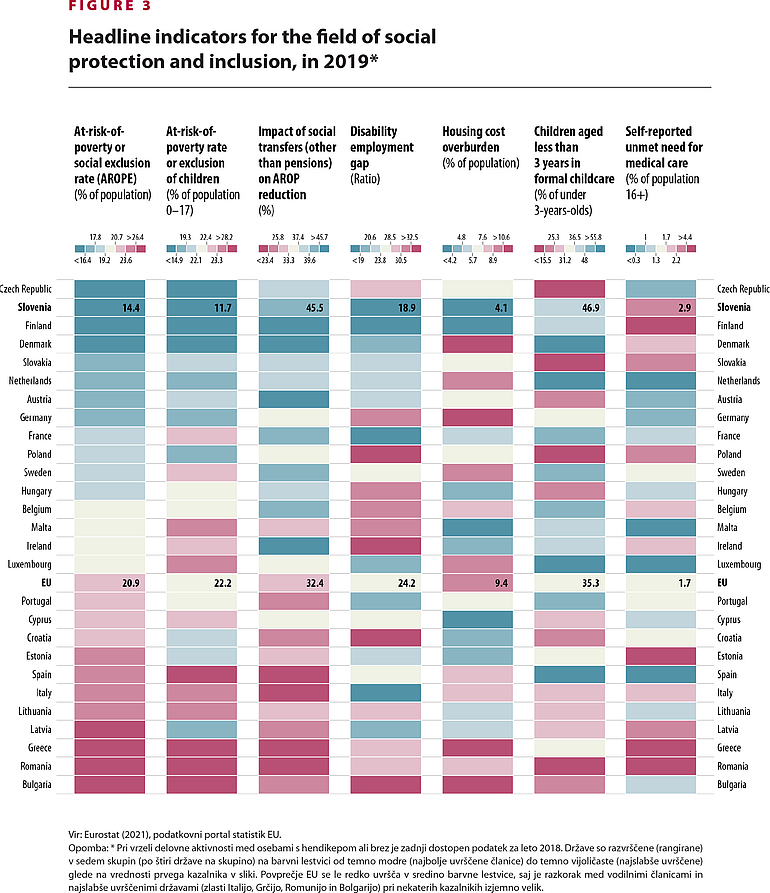 The analysis showed that Slovenia ranks among the top EU Member States for most EPSR headline indicators. Nevertheless, a more detailed analysis of EPSR principles and rights highlighted challenges in several areas. Compared to other EU Member States, Slovenia has one of the lowest levels of inequality and people at-risk-of-poverty and social exclusion (AROPE) in the EU and the lowest level of children at-risk-of poverty and social exclusion. At the same time, Slovenia has one of the highest unmet need for health care due to long waiting times, a poorly developed long-term care system, especially for home care, and faces a number of challenges related to the social inclusion of some vulnerable groups, the efficiency and long-term financial sustainability of social protection systems, and the development and monitoring of equality and inclusion programs for groups not adequately represented in the social rights monitoring indicators.