The moderation of foreign demand growth is reflected in more modest growth in export-oriented sectors of the Slovenian economy this year. The growth of manufacturing production in the first eight months was more modest than last year in all except high-technology activities. Lower growth is also recorded for most goods exports, particularly exports of intermediates, which are usually integrated in global value chains. The overall growth of both goods imports and exports is otherwise still high, but mainly as a consequence of stronger trade and distribution activity in medicinal and pharmaceutical products rather than higher pharmaceutical production. The exports of medicinal and pharmaceutical products made the largest contribution to the otherwise modest increase in export market share on the world market in the first half of the year. The slowdown in market share growth on the world market – which is otherwise related to the absence of the high growth rates in passenger car exports seen in previous years – is also due to the geographical orientation of Slovenian exports to the EU market, where Slovenian market share growth remains relatively favourable amid more modest growth in demand. In the summer months, weaker growth was also recorded for exports and imports of services, transport services in particular, which reduced growth in the entire transportation sector.
In sectors that are mainly related to private consumption, activity has mostly been strengthening. Turnover growth in retail trade in non-durable goods is rising further and turnover in the sale of durable goods remains high. Household spending on services related to leisure activities at home and abroad has also increased further. The strong turnover growth in hotels and restaurants is otherwise generated by foreign tourists, same-day foreign visitors and transit tourists. Moreover, the growth of household disposable income has a positive effect on activity in residential construction. Activity in other construction segments has however been easing in recent months, notably in the construction of non-residential buildings, which is related to deteriorated expectations of the business sector and its investment activity. Confidence in construction is deteriorating further. In recent months confidence also started to fall among consumers, who are less optimistic regarding the economic situation in the country and employment in the next few months.

The growth of activity is moderate in most sectors; activity in construction declined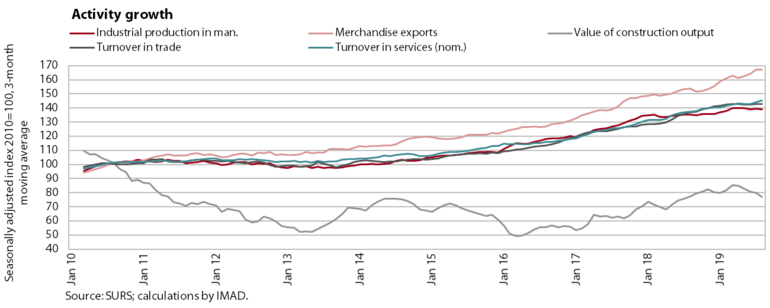 The decline in registered unemployment has slowed in the last few months; wage growth remains high, while cost competitiveness is worsening gradually with lower productivity growth. The growth of employment has slowed as well and is lower than last year, driven mostly by the hiring of foreigners. Wage growth is higher than last year amid the shortage of (appropriate) workforce and the relatively low unemployment rate. Particularly in the private sector, wage growth is also due to the increase in the minimum wage. Growth in unit labour costs rose amid more modest growth in GDP and productivity, as in other EU countries more notably in manufacturing. In the second quarter, unit labour costs increased more in Slovenia than in trading partners. In the third quarter, Slovenia also had higher inflation, which was reflected in a moderate deterioration of the price competitiveness indicator.
The growth of loans (household loans in particular) and deposits continues. Household loans account for around 80% of the total net increase in domestic non-banking sector loans. The fastest growth (over 10%) is recorded for consumer loans, which are contributing to higher household consumption. Deposits of non-banking sectors also continue to grow. Given the low interest rates, particularly overnight deposits are on the rise, accounting for almost 70% of all non-banking deposits.
The general government surplus in the first nine months was more than half lower year on year. Revenue increased less than in the same period of last year, while expenditure growth strengthened and exceeded revenue growth. With more modest EU funds absorption, the lower revenue growth mainly reflected weaker growth in revenues from taxes, personal income tax in particular. The growth of revenue from value added tax also eased. With further growth in employment and wages, social security contributions increased to a similar extent as in the same period of last year. The stronger growth in expenditure was mainly driven by increased public servants' wages and employment in the public sector, alongside higher expenditure on social transfers.