Demographic trends are exacerbating the problem of labour shortages in the period of economic growth. Demographic changes reflected in a decline in the population of the most active age (20–64 years) are reducing the potential labour supply and increasing labour shortages. Amid a strong demand for labour, more and more enterprises have problems finding appropriately qualified workers, which can also become a factor limiting further economic growth. It is therefore necessary to activate spare capacities on the domestic labour market and formulate effective migration and integration policies to ensure sufficient net immigration.
The potential to increase domestic labour supply has decreased significantly in the last few years. The possibilities for expanding the labour supply in Slovenia lie in earlier entry into employment, later retirement, and the activation of unemployed and inactive people. Owing to structural imbalances and differences in willingness to participate in the labour market, it is not possible for the economy to absorb all unemployed persons or activate the total inactive population. We have therefore made an assessment of the number of people who could be included in the labour market, taking into account each group's likelihood of employment. The assessment shows that the size of potential workforce is relatively modest in Slovenia. Unutilised potential exists particularly in the cohort of young people who will enter the labour market after finishing school and among people older than 55 years. As a result of relatively early retirement, Slovenia namely has a very low employment rate among older people (55-64 years), significantly lower than the EU as a whole.
Source: SURS; calculations by IMAD.
In the coming years a sufficient labour supply can be maintained particularly by net immigration. The shortage of workers can be alleviated by increasing the inflows of foreign workers, but also by encouraging the return of Slovenian citizens and reducing their emigration. Simulations of the impact of different net immigration levels on labour supply, however, indicate that to fully offset the decline in the working-age population, very high net immigration (over 10,000) would be required. In recent years the majority of foreigners have come from former Yugoslav republics with relatively high unemployment rates, especially among people under 35 years of age, who more frequently decide to move abroad. We estimate that part of this inflow has also been related to the economic cycle. With regard to demographic trends, attracting foreign workers with appropriate skills will therefore be a major challenge for enterprises in the future, and will require a systemic approach through effective migration and integration policies.
Simulation of the impact of high net immigration on the size of the population in the 20–64 age group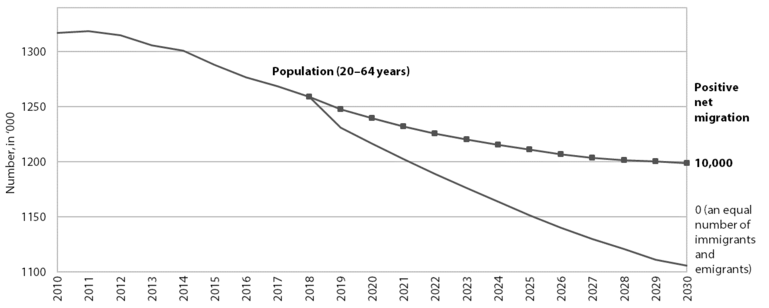 Source: SURS; calculations by IMAD.
To integrate immigrants into society, it is crucial to create the conditions necessary for them to live a quality life. A precondition for integration is command of the language. However, the Slovenian language course for foreigners is relatively short, which is also reflected in their relatively poor knowledge of Slovenian. This affects their employability and income level and makes them more exposed to the risk of poverty. With a very large share of immigrants living in overcrowded dwellings, one challenge is to adopt regulation facilitating their access to housing. Moreover, the employment rate of immigrant women is relatively low (amid the otherwise high employment rate of Slovenian women). Immigrant women can also constitute a part of the labour force reserve that is worth activating, especially in light of the rising demand for social services due to ageing population.
Automation and robotisation can alleviate the problem of labour shortages in the short term, but in the long term they may even aggravate it. They are also changing the nature of existing jobs. The share of enterprises using robots in Slovenia is similar to the EU average, but Slovenia lags well behind the leading countries in this area. The OECD estimates that in Slovenia 25% of all existing jobs are at risk of automation due to technological process, which ranks us among the countries with a large share of such jobs. In the short term automation can alleviate the problem of labour shortages, but in the long term it may lead to an even greater labour demand. Besides destroying jobs, each new technology changes the nature of existing jobs, making them more complex, and creates new ones. From the perspective of demographic change and the impact of automation and robotisation on jobs and society, ensuring that individuals can acquire appropriate knowledge and develop new skills throughout their working lives represents a particular challenge. This, however, requires a comprehensive approach to ensuring opportunities for lifelong learning.
Dealing with labour shortages poses many challenges. It is necessary to create conditions for earlier entry into and later exit from the labour market, which requires (i) a better matching between educational programmes and the economy's needs of knowledge, (ii) the creation of a lifelong learning system that enhances employability and enables people to change careers throughout their working lives, and (iii) the promotion of healthy lifestyles and investment in health and safety at work. In order to make more efficient use of the knowledge and skills of all workers, it is necessary to strengthen intergenerational cooperation within companies and to promote age management practices. The need for lifelong learning also arises from the introduction of automation and robotisation, which are changing the way we work and require new skills. It is also necessary to formulate effective migration and integration policies to ensure the conditions required for immigrants to enjoy a quality life and for the Slovenian citizens to return from abroad, to promote brain circulation and to attract foreigners with appropriate skills.